Porsche
A passion for Porsches combined with the qualifications, experience, knowledge, specialist tooling, diagnostic tools and factory workshop manuals means we are able to carry out anything from the vehicle service and diagnostics to race preparation and restoration work on all Porsches 356 – 991.
We encourage our customers to buy Genuine Porsche parts and support the local suppliers who represent the brand in NZ.
Due to the amount of Porsche work we do and to ensure your car is waiting the minimal amount of time for parts, we do keep our own stock of commonly used parts, particularly for models more than 10 years old.
We regularly freight our own order of quality OEM and aftermarket parts from overseas wholesale suppliers, so our customers have an alternative to Genuine parts with alternative pricing without comprising on quality.
Aero Automotive keeps a good supply of used parts particularly for 996, Boxster, Cayman and 928.
For more information or to book your vehicle in at Aero Automotive, please get in touch with our team today.
Contact us today!
Inspections
Aero Automotive can assist customers with vehicle inspections services at our fully equipped workshop, including pre-purchase inspections and pre-trip inspections.
For peace of mind before buying your next second hand vehicle or before heading off on a family adventure holiday, be sure to have the experts at Aero Automotive inspect your vehicle.
For more information or to make an inspection booking, please click on the button below today.
Contact us today!
Brakes
Providing stopping power for your vehicle, the humble braking system is a vital automotive component that must be regularly serviced to ensure long-term safe operation.
Here at Aero Automotive, our team of skilled mechanics understand this better than most and is the reason why we provide a comprehensive brake inspection service. This includes component replacement, machining, and inspection of hoses.
If you are worried about the performance of your brakes, please get in touch to make a booking today.
Contact us today!
Steering and Suspension
The modern passenger vehicle's steering and suspension system works in partnership to ensure your vehicle remains safely on the road at all times.
However, should you notice your vehicle pulling to the side while driving, this is a common indicator that there is a potentially serious issue with the vehicle's wheel alignment.
At Aero Automotive, our skilled team can assist with common steering and suspension issues and do so through providing the following services:
Wheel alignments, shocks and springs, wheel balancing, bushing replacement, power steering repairs and replacement.
For more information regarding our steering and suspension services, please pick up the phone and give our friendly team a call today.
Contact us today!
Clutches and Transmissions
Issues with a vehicle's clutch and transmission system often first appear as a warning light on the dashboard and if ignored can result in serious damage to the transmission system.
Here at Aero Automotive, our team of skilled mechanics strongly recommend that at the first sign of clutch or transmission issues, to book your vehicle in at an accredited mechanical workshop.
This will ensure that dashboard warning signs are resolved, any mechanical issues will be repaired and potential long-term or permanent vehicle damage is avoided.
If you are worried about your vehicle's transmission system, please contact us today to make a booking.
Contact us today!
Tyres, Wheels and Alignments
At Aero Automotive, our workshop is fully equipped with quality tyre machines, balancers and wheel alignment machines.
Our skilled team of mechanics are able to provide and fit the right tyres for your vehicle, whether it be for a competition vehicle or even the family car. Aero Automotive also have access to Porsche, Mercedes, and Audi rated tyres.
With a Hoffman Geoliner wheel alignment machine we can cater for all alignments including camper vans, motor homes, American classics, competition vehicles, crash repaired vehicles and Porsche.
We are an authorised dealer of Michelin Tyres and also have direct access to any tyre brand, meaning we can offer a competitive tyre option for your car or fleet vehicles.
At Aero Automotive, our technicians have vast knowledge and experience in alignment and tyre fitting, so we are able to source the right tyre for your needs. Our other tyre services include:
• Hoffman 3D Geoliner machine
• Wheel balancing
• Puncture repair
• Wheel rotation
For all booking inquiries, please contact us today.
Contact us today!
European Vehicle Services
Our workshop is fully equipped with the service tools, diagnostic equipment, information, knowledge and skills to be able to carry out all tasks required to keep your modern European car running to manufacturer's specifications.
Access to a large base of original equipment and replacement parts suppliers both in NZ and overseas allows us to offer our customers considerable savings compared to franchise agents and non specialized garages.
Contact us today!
Airport services
Our close proximity to Auckland Airport makes Aero Automotive an ideal alternative to your airport travel arrangements. If travelling overseas or within NZ leave your car with us while you are away to carry out all service and repair requirements. Please contact us for details.
Loan cars
Aero Automotive has a small fleet of late model vehicles available for our customers to use while their vehicle is being serviced or repaired. Cars are available on first come first served bases. Please inform us, when making a booking, if you require a car.
Contact us today!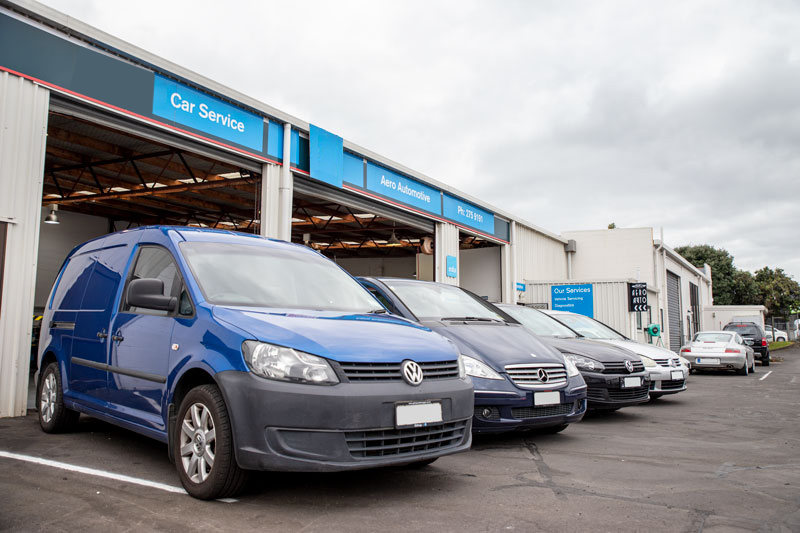 WOF Repairs
We can carry out all WOF repairs. With a VINZ testing station located 500m from our premises, we can present your vehicle for WOF or COF inspection on your behalf at no extra cost. For more information or to make a booking, please click on the button below to contact us today.
Contact us today!
Vehicle Diagnostics
Aero Automotive is equipped with the current diagnostic computers covering most makes and models and skills to operate them. This allows us to diagnose and fix faults fast, saving time and money. Engine diagnostics, engine check lights, ABS and Airbag faults, and vehicle service lights reset.
Auto Electrical
Aero Automotive staff are trained in modern vehicle electrical and electronic diagnosis. We are equipment to diagnose all electrical systems in your car as well as carryout stereo GPS and accessory installations.
Contact us today!
Performance, Motorsport and Track Cars
A strong background in Motorsport means we have the knowledge and access to the right components to carry out engine suspension and drive train to your vehicles: including; up-rated suspension, exhaust upgrades, transmission and diff upgrades.
Whether it is a complete track day or race car build, a suspension set or single part modification, we are equipped and skilled to carry out all your Motorsport requirements.
Contact us today!
Other Services Offered
Our years of experience in the Auckland Automotive world means we have access to a large pool of specialist trade suppliers of Aircon repairs, automatic transmission re-conditioners, panel and paint repairers, paintless dent removal,  specialist auto electrical and much more. Please contact us for any special requirements you have on your vehicle.
Contact us today!
Air Conditioning Regas
We remove old refrigerant gas from your air conditioning system to replace it with new refrigerant. This allows your aircon to efficiently run cold again.
Contact us today!